We love helping our clients tell their stories. Client News: Pretty Hunter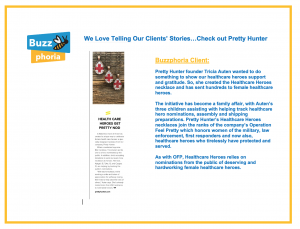 Buzzphoria Client: Pretty Hunter founder Tricia Auten wanted to do something to show our frontline healthcare heroes support and gratitude. So, she created the Healthcare Heroes necklace and has already sent hundreds to female healthcare heroes.
The initiative has become a family affair, with Auten's three children assisting with helping track healthcare hero nominations, assembly and shipping preparations. Pretty Hunter's Healthcare Heroes necklaces join the ranks of the company's Operation Feel Pretty which honors women of the military, law enforcement, first responders and now also, healthcare heroes who tirelessly have protected and served.
As with OFP, Healthcare Heroes relies on nominations from the public of deserving and hardworking female healthcare heroes.
Read more about it in Metro Parent, here: https://lnkd.in/eYJzehN